Client Interview
Olga, from Zhmerinka, Ukraine.
Olga is 22, she is a 6-year student of the University of Trade and Economy.
Olga, tell us a little bit about your background and your current life (family, education, career, past relationships, etc).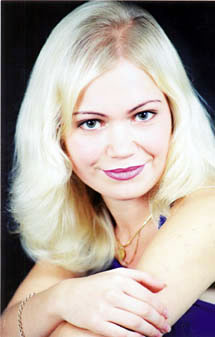 I'm a student and my future profession is economist. I like to study, and especially I like to study foreign languages. I speak English and in the nearest future I would like to start learning German. I am single and I do not have any children. I like sports, hold a very healthy life style and I do not have any vices, meaning I do not smoke and I do not drink. If to speak about my character, I would say that I am kind, calm, sincere, sensual and feminine. I like to be with people and to help them. I like good music and dancing. I also enjoy doing housework and cooking tasty meals. I adore nature, long walks on the beach in a warm summer evening, romantic candle light dinners and long conversations with that special one, whom I hope to meet soon.
Why did you decide to participate in a service such as our social dating service? What do you expect from the service?
I am a very romantic person and I believe in destiny. I think that my destiny can be a man who is on the other side of the ocean, the man that dreams about a woman just like me. He also can see our happiness together, happiness full of love. He understands and sees the future the way I understand and see it.
What kind of man are you looking for? What do you like and dislike in men?
I am looking for an intelligent, well-educated, strong man, who is trustworthy and caring, who has a kind and calm character and desire to make me happy. I like sporty men who understand an importance of a healthy life style.
How important for you is a financial status of your future husband?
I value confident, goal-oriented men who are financially independent and who are serious about their job, career and financial situation. However I will not be able to fall in love for money. Money can not bring love, happiness and compatibility.
What do you think are the differences between Ukrainian and foreign women? Why do you think many of the foreign men are looking for a wife in the countries of the former USSR?
Foreign men often talk about extreme independence, egocentrism, feminism and selfishness of Western women. I believe that our women are much more traditional about their views at life and understanding of the relationship within a family. I am proud of the fact that my female compatriots possess such qualities like kindness, hospitality, inner and outside beauty, and I am not the least surprised that men are ready to travel over the ocean looking for happiness and hoping to meet a woman of their dreams.
What do you think make women from the countries of the former Soviet Union apply to the service likeour social dating service?
I think that girls have a great desire to find a decent man, they dream about romantic relationship, about better life, and about making a happy family. I believe that the agencies like our social dating service give both sides, women and men, an excellent opportunity to meet a lot of people. However we are responsible for what kind of choice we make and for how we are building our relations from that point.
Do you plan on working after the marriage if you move to the US?
Even if I decide to work, I probably will not work for the sake of a career. I would like to have a work to enjoy it, the one that will be for my soul and for building my self-confidence. I have a dream. I would like to have my own business that would be connected with creating an image for a woman. I think that there are no "not beautiful" women. It is very important to help a woman to find her own style, to make her attractive and confident. They say that I have good taste and that I am good with people. I think that I would enjoy this type of work.
How does your family feel about your participating in the service like ours?
My family would like to see me happy.
What is your model of an ideal family?
First of all I consider that a man should be a head of the family. I believe that mutual respect, trust, understanding and faithfulness of both partners are essential for a successful marriage. I would like to be the best friend for my husband, and wish that we would have very close relations. As any woman, I would like to love and to be loved. Romantic relations are very important for me.
In what country (place) would you prefer to live? Does it matter for you what country or region your future husband is from?
It really does not matter. The main thing is not where but with whom. However I would not like to have any conflicts on cultural or religious bases.
How may one contact you?
You can write me, or call me through a Phone Translation Service. I know that our social dating service has tours to Kiev Ukraine, and if you are going to one of their tours and really interested in meeting me, I would be happy to come to Kiev and meet you there.